Woven Webbing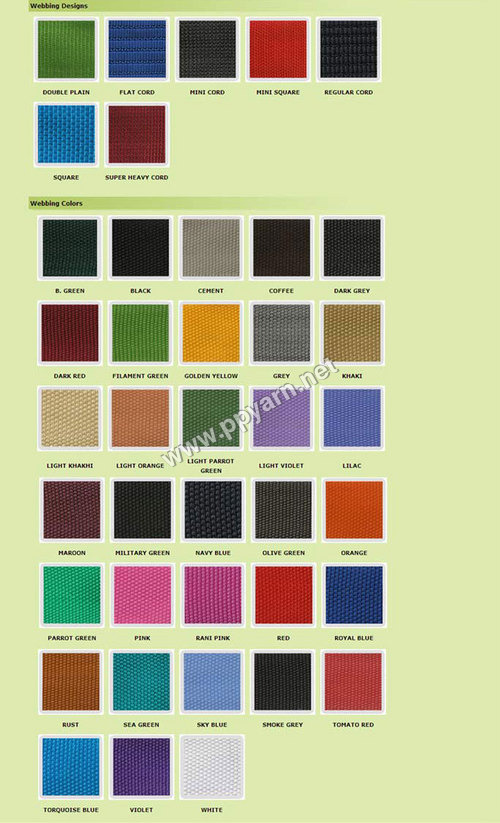 Woven Webbing
Product Description
Based in Ahemadabad, Gujarat, India, we are engaged in manufacturing, supplying and exporting a wide array of Woven Webbings that are flat strips woven from varied fabrics such as nylon, polyester, polypropyolene etc. These are used for various day to day purposes that include seat belt in car, buses & trucks, as a fall arrest belt in construction sites, making harnesses for rock climbing, bungee jumping, parachuting purposes etc. With a team of experienced and dedicated professionals, we make these woven straps from quality assured fabrics and other raw materials by using modern weaving machinery. We make these woven webbings available to our clients in different widths, lengths, thicknesses, colors and at nominal rates.
Features:
Light weight and high stress bearing capacity

Highly flexible

No absorption of oil, water, grease etc.
Application of Polypropylene and Nylon Webbings :
Sport Bags : Ruck Sack, Ski Bags, Bowling Bags, Gear Bags, Scuba Diver Bags and Shoe Bags

School Bags : Casual Bags, Back Packs and Duffel Bags

Outdoor Bags : Luggage Bags, Collar Bags, Lunch Bags and New Carter Bags

Health Care : Surgery, Adjusting Straps and Wrist Braces

Automotive : Straps on Cover and Spare Wheel Straps

Aerospace : Anti Static Webbing and Non Inflammable Webbing

Helmets : Suspension Web and Tapes

Filters : Fine Mono Foil Tubular Webbing

Clothing : Trouser Belts, Waist Bends, Back Neck and Suspenders

Military : Trucks, Bedding and Cartridge Belts

Tool Bags : Computer Tool Bags and CD Cases

Others : Slings, Fire Retardant, Safety Belts, Parachute Harnesses, Jumbo Bags, Tents, Lanyards, Snatch Straps, Furniture Belts and Saddler Belts